Replacement Roofing Central Arkansas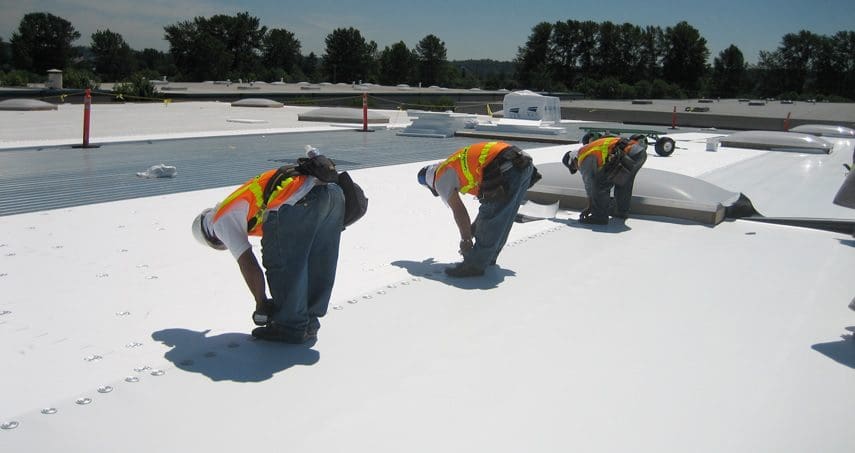 Do you have an outdated form of roofing? Having an older style of flat roof can lead to water damage or poor insulation causing your bills to skyrocket. Updating your roofing will help protect you from property damage and also lower your costs in the long run. There are plenty of options to consider for materials for replacing your roofing. 
Has your building taken wear and tear from the elements? Standing water, hail, and wind can be detrimental to roofing and cause leaking. If you roof is older you can expect a roof at some point. Flat roofing is something that you can count on to leak because it does not drain as easily as in an angled roof. Higher quality and updated materials will last longer before you will need to repair or replace it. 
We offer commercial flat roof replacement across the Little Rock, North Little Rock, Sherwood, and surrounding areas. As a local business we will offer you our excellent and professional service with competitive prices. Call us during business hours from 8AM to 6PM at: 501-290-4466
Fill out our free quote form to give us an idea of the project for your building or buildings. Whether you have one small roof to replace or an entire apartment complex to update we can handle your roofing needs. Hire us as a trustworthy roofer to ensure that your project no matter how large or small it may be. We also offer services such as new roofing, roof repair, and insurance claims, so that whatever your need you have we will meet it.
Replace Commercial Roofing North Little Rock Sherwood Cabot
If you own a commercial building with a flat roof odds are that you will need to replace or repair your roof at some point. Look to Little Rock Roofing & Flat Roof to ensure that you receive the best possible roof service. Our years of experience with roofing has made our team the best in Arkansas. We have cultivated a reputation of fantastic service through hiring hardworking and honest contractors. With us you can rely on getting trustworthy communication and service. No one but Little Rock Roofing & Flat Roof can provide such excellent service at such reasonable prices.
Updated flat roofing solutions
Give your roofing the update it needs with Little Rock Roofing & Flat Roof. We provide many options for roofing replacement. Check out our Flat Roofing Solutions to read more information about our flat roof options. We offer PVC, TPO, and EPDM flat roofing along with spray applied coatings to keep your roof waterproof. A spray coating of silicone, acrylic, or aluminum can be directly applied to your flat roofing surface to prevent leaks.
If you are in the Little Rock, Jacksonville, or surrounding areas and are looking into flat roof replacement, make sure to give us a call to answer any questions you may have. We truly care about the things that are important to you. We understand that you want a quality, durable, and low-cost roof. Hire us and we guarantee that you will be satisfied with our work ethic, materials, and prices.