Residential & Commercial Roofer
Little Rock's #1 Roofing Contractor & Flat Roof Installer
Little Rock Roofing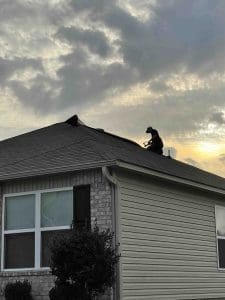 Do you need a New Roof in Little Rock? Are you dealing with Hail Damage and you need a professional roofing contractor to take a look? Are your shingles wearing out? Little Rock Roofing & Flat Roof connects you with the best roofing crew in town! We are licensed, bonded and insured roofing contractors in Little Rock, and we'd love to speak with you about your next roofing project whether it's a new roof installation or a roof repair.
Roofing Little Rock AR
Our roofers are committed to providing excellent service for clients in Little Rock, North Little Rock, Jacksonville, Cabot and the surrounding areas. Our roofing contractors are experienced commercial and residential roofing professionals. We offer services related to commercial flat roofing, commercial roof repair, residential roofing with shingles, hail damage inspection,  roof replacement, and a variety of other professional roofing services. Hire us to handle all your roofing needs.
Little Rock Roofing Company
At Little Rock Roofing & Flat Roof, we know how it is to have to deal with a roof leak, hail damage, or a roofing emergency. We've all been there, and we also understand you need your problem fixed quickly. If we can help you with roof leak repair, or if you need a roof replacement give us a call for a free quote on service. Call weekdays between 8AM and 6PM at: 501-290-4466
You can also fill out out the Free Quote form on this websites.
Fantastic Roofing Services Little Rock
With Little Rock Roofing & Flat Roof you will receive the absolute best possible service from a roofer. If you hire us you will get the most beautiful roof on the block. Has your roof taken damage during a hail storm? We can give you an inspection and repair any roof damage. Our team truly cares about giving you quality materials that will last a lifetime and professional experienced service. Having excellent service can make a huge difference in the life of you roofing. Make sure to call or fill out our free quote form to hire us today.
Are you looking for roofing for your commercial property or you have a residential roof project or roof repair to complete, check out Little Rock Roofing & Flat Roof for the best service in Sherwood, Jacksonville, Cabot, and North Little Rock. For excellent roof service across central Arkansas hire our top notch contractors. Whatever type of roof service that you require, you can count on our team to offer you great work at a competitive price.
Fill out our free quote form to give us information about your project or give us a call at:
We will make your questions and concerns our top priority, so give us a call. We truly care about what matters to you. As a local contractor we know that you care about honesty, hard work, good quality materials, fantastic customer service, and fair pricing. We will meet and exceed all expectations that you have for a roofing business.
THE BEST ROOFING CONTRACTORS IN LITTLE ROCK